Funded projects
Breast Cancer Australia invests in many areas in its ongoing fight against this terrible disease. There is increasing demand for our support across the community and we are constantly working to decrease the rate of mortality and improve our services.
Direct support
We are proud to have funded the purchase of a wig for Sarah to wear to her daughter's holy communion. The side effects of her breast cancer treatment have caused her to lose her hair, and her self-confidence. The realistic wig allowed her to feel confident, happy, and herself, for her daughter's special day.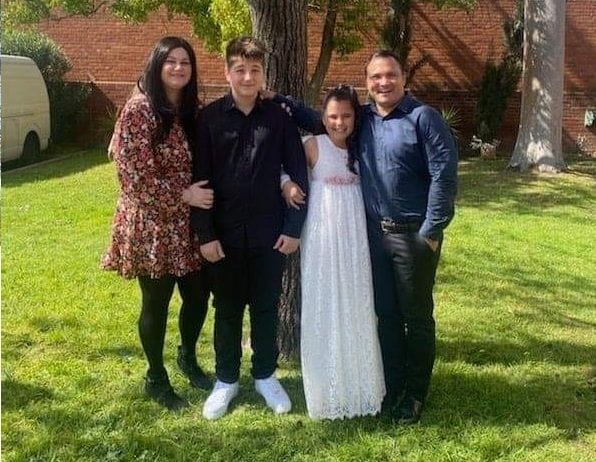 Research
In Australia in 2014, 140 men and over 16,000 women were diagnosed with breast cancer, and a total of 2,868 people died of it. Research projects, trials, and awareness in the community continue to improve treatment and diagnosis around Australia.
We are proud to have been instrumental is funding a number of important research projects, including the ones listed below.
Preclinical development of a novel plant toxin, persin, as an anti-cancer agent - Click here to view project.
Linking diabetes to an increased risk of breast and prostate cancer - Click here to view project.
Breast Cancer Exercise Trial - Click here to view project.
Equipment
Hospitals & Research Institutions are continuously aiming to upgrade their equipment so that they can offer the best diagnosis and treatment options for their patients. Unfortunately, much of the equipment is highly specialised and very expensive. This is why we provide funding to ensure the most up to date equipment available.
State of the art equipment is essential in assisting hospitals efforts in saving the lives of diagnosed breast cancer sufferers. A significant contribution has been made to the purchase of a Rotor-Gene 6000 real-time PCR machine. This machine greatly enhanced researchers' ability to make more specific and sensitive detection of molecular cell research. The provision of funding for this machine means that more samples can be run concurrently with high sensitivity, reducing the time taken to complete projects. The summary below explains how this machine is of value.
Rotor-Gene 6000 real-time PCR Machine
Breast cancer is the most frequently occurring cancer and the most common cause of cancer death in Australian women. Early detection of the tumour while still confined to the breast increases the chance of survival dramatically. However, 25-30% of patients who have been diagnosed with early stage breast tumours may still relapse and die within 5 years of surgery due to the undetected spread of cells from the primary tumour to other organs via blood circulation or lymph nodes.
Detection of these disseminated tumour cells at presentation may have important prognostic implications, altering the staging of the disease and resulting in the early identification of patients at high risk of disease recurrence. Long-term follow-up of patients post surgery will determine if detection of positive cells in the, blood samples is an independent prognostic marker of disease-free and overall survival. If so, then such high risk patients identified at the time of surgery may be offered adjuvant therapy which is currently only given to more advanced stage patients.
We have established 2 methods for early detection of circulating tumour cells,
1. Using a panel of 10 molecular expression markers that enables specific and sensitive detection of rare disseminated tumour cells amongst a population of other cells in a 10 ml blood sample.
2. Detection of circulating methylated tumour DNA in blood plasma samples.
We have a panel of 12 gene markers for detection of frequently methylated genes in breast cancer.
Acquisition of the latest technology Rotor-Gene 6000 real-time PCR machine would greatly enhance our ability for more specific and sensitive detection of these circulating cells as many more samples can be run concurrently and with higher sensitivity while reducing the time taken. In addition, the Rotor-Gene 6000 has been engineered with the ability to perform high resolution melting (HRM) for the detection of gene mutations. It incorporates a specially tuned high-intensity optical channel, high-speed data capture of up to 1000 data collection points per C.
HRM characterises nucleic acid samples based on their disassociation (melting) behavior. Samples can be discriminated according to their sequence, length, GC content or strand complementarity. Even single base mutations can be readily identified. Using HRM will allow the rapid identification of methylated gene sequences in circulating tumour DNA in patient plasma samples. This methodology is the latest advance in mutation detection and allows analysis to be done in a single tube without having to analyse on gels and without the risk of cross-contamination from other sources. All current projects would greatly benefit from the addition of this technology in our laboratory. Other laboratories within the research facility would also benefit from having access to this.